There are no such thing as free lunch. Many marketers see the organic reach of their posts on Facebook Business page drop off. Without paid reach (via suggested posts), brands can expect to see their reach decline over time. The above chart from Statista shows that the organic reach of brands' posts is decreasing, and soon brands will no longer be able to reach their Facebook fans without paying.
Facebook's EdgeRank algorithm means that less and less fans see page posts. Pay to play on Facebook is here to stay and yes, this is one of the biggest shift in social media marketing many companies need to adapt.
If you are a business owner or a marketer, you are probably more inclined to focus on Facebook advertising that actually converts and bring results. Now there is a new option you can try (it's not very new in fact, Facebook has enabled this feature quite a while ago), via Custom Audiences, Lookalike Audiences and Website Custom Audiences.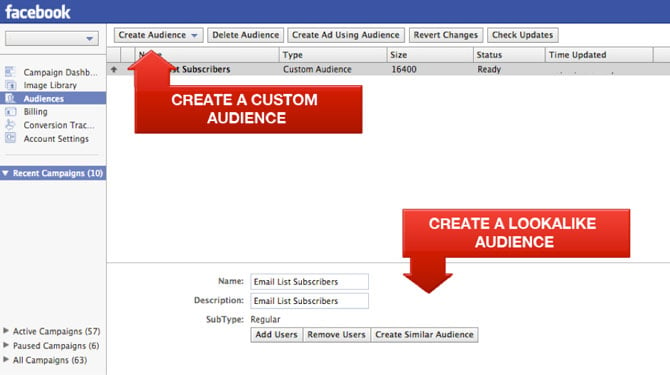 Reaching the right customers via Custom Audiences
With Custom Audiences, marketers can use their own contact lists to reach customers with targeted ads on Facebook. According to Facebook, thousands of advertisers, including more than half of the AdAge 100, already use Custom Audiences targeting in their campaigns.
You can now target your email lists with Facebook Ads. Email and Facebook are probably the two most popular marketing tools online today. Now, you can make them to work together, for you.
Email + Facebook Ads = Great ROI
You take your Email Subscription List (MailChimp, AWeber, GetResponse, iContact and so forth) upload it to Facebook, then run ads on Facebook that target those same customers.
I personally think that Facebook advertising is targetable and it is a really good opportunity for small businesses to boost their conversion. You know your customers are probably hanging out there on Facebook. With custom audience, it's not only easier for businesses to buy ads on Facebook, but it's also easier to find and reach the right prospects.
However, advertising on Facebook can be challenging if you haven't had proper training and experience with it. And even then, with Facebook changing more often than I change socks, it's extremely hard for us marketers to keep up. With the gradual decline of organic reach over the last couple of months, the only way to beat the system is to pay for ads.
In this context, Facebook has announced Website Custom Audience not too long ago.
What is Website Custom Audiences
Website Custom Audiences allow you to create Facebook ads that target users who have previously visited your website.
You can target your email list or other offline customers through Custom Audiences. And now you can reach people who may not be either an offline customer or a Facebook fan, but who visited your website.
Website Custom Audiences is similar to existing remarketing tools that allow marketers to reach people who previously interacted with their desktop websites.
Have you used Facebook Custom Audiences to better target your Facebook ads? Did you see good results?